Scarf Ability - 25 Ways to Tie a Scarf
Source: Booklet published circa 1960s from Sears and Roebuck, Co.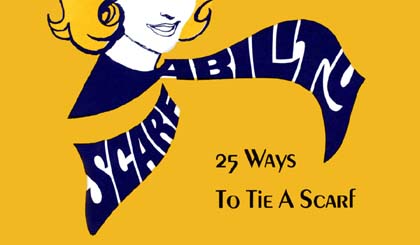 Note: This is a vintage 6" × 3½" booklet distributed approximately during the 1960s. Worthy of noting, as the text is presented unmodified from its original form, is the somewhat archaic use of the word "gay" in the section The Belt as well as the mention of cigarettes in the section Hobo Bag.
---
Page Contents:
---
Standard Scarf Folds
Band Fold
For square or long scarves.
Bias Fold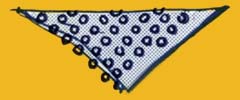 For all sizes of square scarves.
Bias Band Fold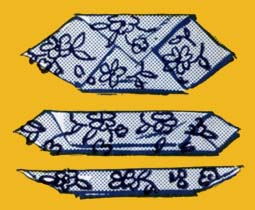 For all sizes of square scarves.
---
Introduction
A woman's way with accessories can become her personal fashion signature. It is her way of expressing herself as an individual. Scarves are not only the most versatile of all accessory fashions. In today's fashion picture, a scarf worn in combination with a hat, a handsome belt or rows of chains, a dramatic pin, flying from a handbag strap or luggage handle, expresses today's mood. Scarves come in an endless variety of colors and patterns – from quiet to flamboyant – to suit you and the occasion. You have your choice of large squares or small squares, or oblongs to whip into loops, ties, or stoles. The sketches in this booklet open the door to a new dimension in fashion looks. Experiment – have fun!
---
Gypsy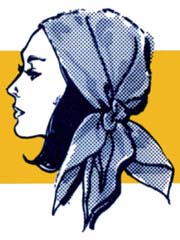 Fold a square on the bias to form a triangle. Wrap it around your head, knot in back, tuck in the ends.
---
Apache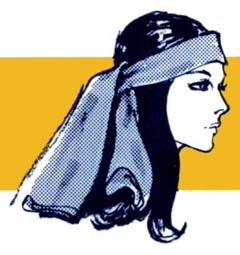 Bias band fold a square. Tie around head, knot, letting ends hang loosely in back.
---
Ponytail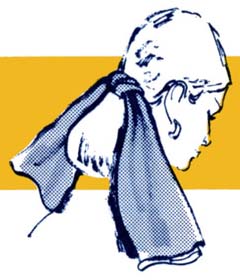 Band fold your square and tie in a loose knot around hair. Let ends of the scarf hang loosely.
---
Hairbow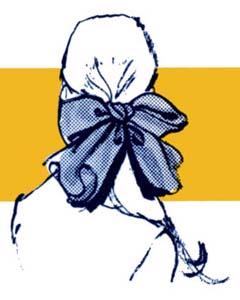 Using the bias band fold, tie your scarf in a bow. Fasten to back of head with clips.
---
Scarf Under Hat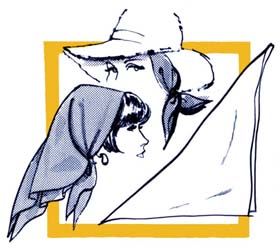 Bias fold your scarf and tie triangle around your head. Knot it at the back or side. Now pull a wide-brimmed hat over it for a striking look. Color-cue scarf to your dress or swimsuit.
---
Ring Tie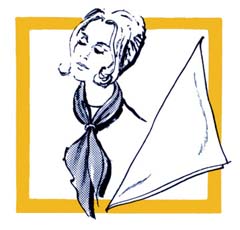 A 24-in. square, or larger, can transform a dress, shirt or sweater. Fold the square on the bias, place it around shoulders. Pull ends through your ring or "his" ring. Start a fad – great fun!
---
Turtle Bib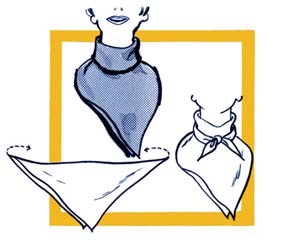 Use a large square, and fold on the bias. With the point in front, cross the ends behind the neck, bring them around to the front, and tie. Turn the scarf down in a cuff to cover the knot.
---
Half Loop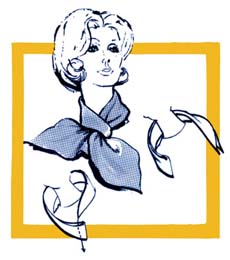 Bias band fold a square, then fold the band in half lengthwise. Place around neck, and pull loose ends through the loop formed by folding. Show off the signature by spreading corners.
---
Western Loop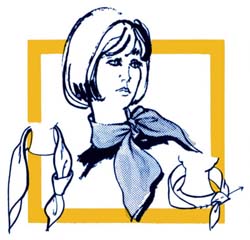 Fold your square into a bias band. Tie a loose knot five inches from one end. Wrap the scarf around your neck and pull the other end through the knot. Spread the corners to hold in place.
---
Isadora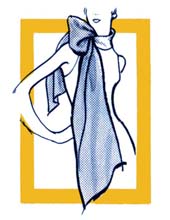 For instant fashion flair, tie a dramatic long scarf around neck, finishing with a single loop – pin – and let ends fly!
---
Bow Tie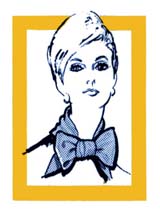 A 27-inch or 33-inch scarf is folded into a bias band, then tied in a soft bow under the chin. Flattering with a suit.
---
Oblong Tie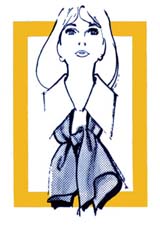 Take an exciting long designer scarf. Tuck it under the collar of a dress or suit. Knot the scarf loosely in front.
---
Scarf Bib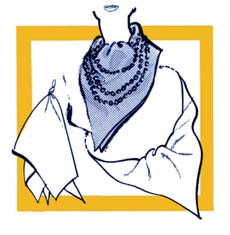 Fold your scarf into quarters, and tie small knot in the center. Fold into triangle and tie ends behind neck. Hang multiple chains in the folds for today's young individualist look.
---
Cowboy Tie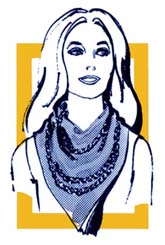 Brighten a neckline in simple casual fashion by bias folding a square and tying it behind the neck. Spread corners in back.
---
The Flip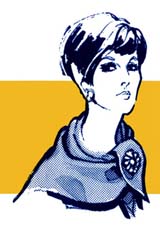 Casual and flattering! Fold a square into a triangle. Place it on the shoulders, and "flip" one end over the other. Secure it.
---
The Shell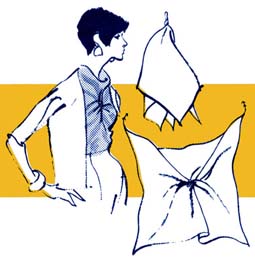 Great idea for a suit! Fold a large square into quarters, and tie a small knot in the center. With the knot underneath, tie two ends at back of neck. Bring lower ends around waist. Tie.
---
The Stole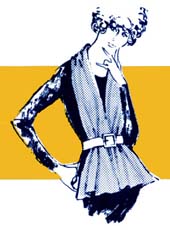 Drape a long scarf over your shoulders, bringing the ends below the waist. Use a belt or rows of chains to secure.
---
The Belt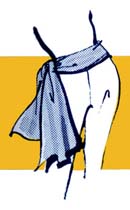 Add a gay flair to pants. Pull a long scarf through the belt loops, and knot at casually at the side.
---
The Belt Again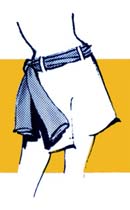 Knot a gaily printed scarf around the waist of pants or shirt. Buckle a leather belt over the scarf. Great!
---
Hip Tie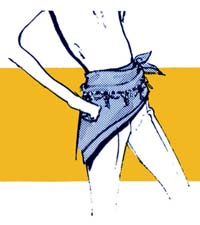 Bias fold a large square and tie triangle around waist. Wear bright golden or silvery chains around it.
---
Shoulder Fling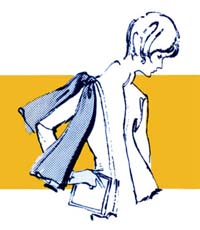 For that individual look, tie a striking scarf – long or square – to strap of shoulder bag, and let fly!
---
Arm or Leg Tie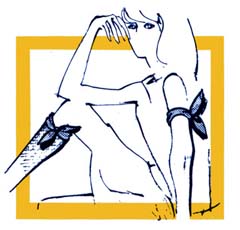 Be a leader! Start a fad! Knot a small scarf around your upper arm, to wear with a sleeveless dress or shell. Or tie a scarf in a saucy fashion to accent the band of your knee sock!
---
Hobo Bag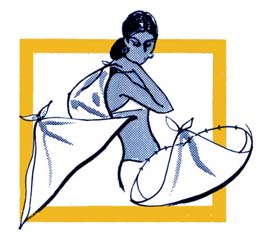 Carry light beach gear – sunglasses, small purse, cigarettes – in a hobo bag. Bring the opposite corners of a square together and tie. Repeat with remaining corners. Slip costume ring over ends.
---
Luggage Tie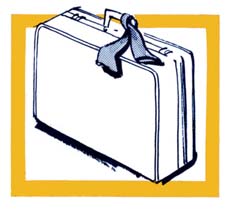 Be the first to spot your luggage! Give it a breezy casual look. Use matching scarves. One becomes a head or neck scarf, and the other instantly identifies your luggage, tied to the handle.
---
Handbag Tie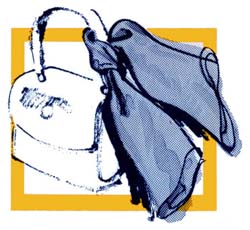 Pick up a color in your costume – repeat it in a distinctive scarf jauntily tied to your handbag strap. Now that you have the idea, start collecting scarves to fit every mood – and every costume.
---
Want more scarf tying information? Here's the KAT's TAIL scarf pages index: