Karen Meets Congressman Barney Frank
This page reflects the account of two of my sisters and myself, after attending an HRC fund raiser and meeting Congressman Barney Frank. Just a mere three months after meeting Senator Jeanne Lucas, this encounter was anything but uplifting.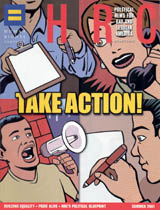 We all three sent our account of the event to several organizations and people. It is through all of their efforts of continuing to circulating it that it received quite a bit of attention. It is interesting to note, while perhaps coincidental, just a month later HRC issued a public statement and modified it's mission statement to include transgender. My personal thanks to all of those who helped give this matter the national attention it deserved!
---
It's Time, North Carolina! Visits an HRC Dinner
February 17, 2001
---
Joney's Letter
---
Angie's Letter
---
Karen's Letter